I'm running out of clever or semi-clever titles.
I ordered more, they should be in sometime this week.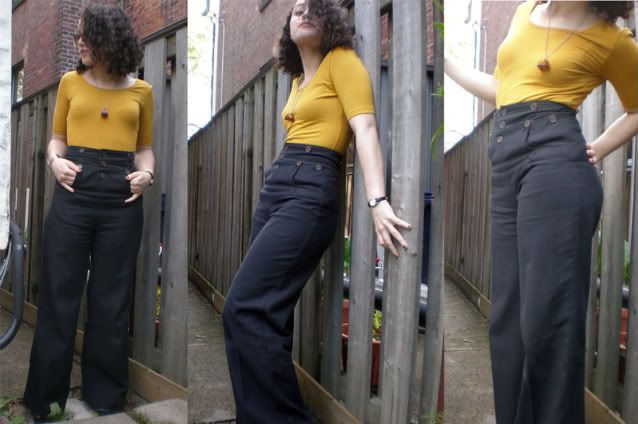 I'm definitely in love with these pants now. I got them back from being hemmed the other day and just wore them constantly. At home, yes. They're really comfortable, though a little complicated to put on, it involves a series of buttons and flaps.
But then later, I get to tell people about all the buttons and flaps and feel all special about myself and my button-up sailor pants.
I didn't think I'd like anything from Sienna Miller and her sister's line (which is where these pants are from) but some of it was actually kind of interesting. Like....a highly studied and manufactured version of quirky. I really loved the black skinny jeans with the gold buttons down the back but because I have short legs they looked weird and frankly if I'm that desperate for gold button things down the back of my legs I'll sew them onto a pair of jeans from Value Village.

I saw these while pretending I could afford Holt Renfrew at full price and really liked them. I like the shape (read: I like what they do to my ass).