No moon.
But lotsa blue.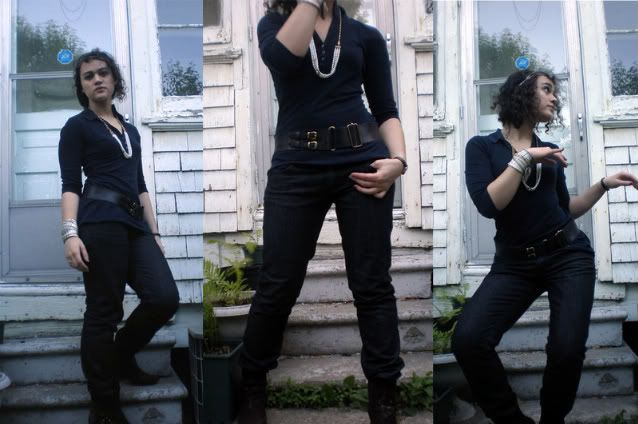 I don't know if it's very visible in the photo but, I tried wearing this chain as a headband today. It's a little random and from what I've seen, a bit trendy, and evocative of a jazzier age than now. Which is why I was willing to try it.
I don't like to try trends for the sake of trying them, I like there to be a reason, a personal inspiration behind those trends for me. I had honestly never thought of doing this before I saw it somewhere on either
Chictopia
or
Lookbook
or something and thought about whether or not it would translate. Actually I think I might be lying. I think I saw a contestant on So You Think You Can Dance wearing it and that was the catalyst for my trying this out.
Horrible me.
And that pearl necklace is a choker. I added a chain to it to make it longer which ended up being more of a pain than anything else in terms of getting it to be the right length.
The only problem I see with it (the headthingy) is that it gets tangled in my curly curly hair which makes taking it out a big pain (literally). But apart from that, it gets me to my daily trendy-hipster quota (without having to so much as look at my ipod - both efficient and aesthetically pleasing. win-win trend, if I do say so myself).
The element I love most about this outfit is that I tried to do something that I don't usually do. Ever. I'm very much a "necklaces are for your necks" person if you know what I mean and today I decided to try going somewhere new. Something actually experimental as opposed to "I think I'll try wearing red today. See where that takes me".
I also was trying to actually actively incorporate some influence into my wardrobe (the headband & the jazz age). Up until....sometime lately I've been at a loss as to how to do this. Not sure if it's my endless perusal of other style/fashion/likeminded blogs or just general progression but I think I'm slowly getting better at it.